The Facade
<! IMG SRC="facadpge.gif">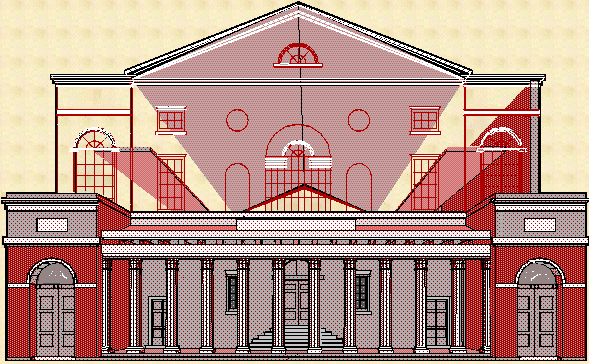 The facade of the theatre, as described by James Mease in 1811,
" . . . presents a handsome front on Chestnut Street, of ninety feet, including two wings, of fifteen feet each. The center building is ornamented with two spirited and well executed figures, of tragedy and comedy (by Rush), on each side of a great Venetian window, over which, in two circular tablets, are emblematical insignia. The top of this center building is crowned by a pediment. The wings, opened by large windows, recede a little from front, above, but project below, twelve feet, to the line of the street, faced with marble; these pavilions are decorated with emblematic figures, in tablets, and connected together by a colonnade of ten fancy Corinthian columns."
To the left, separated from the theatre by a narrow alley, is the Bolivar House, with shops on the lower floor and living quarters above.
To the right stands the Shakespeare Building, with shops on the ground floor, accommodations for theatre patrons on the floor above. Little is know of this building.