This view of the North East stairs shows the brown stairway rising from stage level, the green ladder-like stairway to the flies, and the dark blue stairway descending to the depths beneath the stage.

Comparing the large drawing to the inset reveals the penultimate and final iteration through which the trial and error process went while working with the stairs. In the large drawing, the stairs to the painting and artist's rooms, which Henry Warren shows in his plan of the theatre at the level of the Painting Room, have not yet been taken into consideration.

The inset shows the final arrangement, with the two rooms raised several steps above the level of the fly passage. The authority for this is to be found in the Henry Warren sketch-plans of the theatre, as well as in the logic of the arrangement of floors in the computer model.
---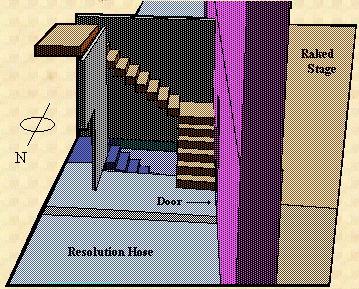 Here we see a perspective detail of the stairwell that accommodates "communication to the Under Stage" and to the "Top of the House" as well.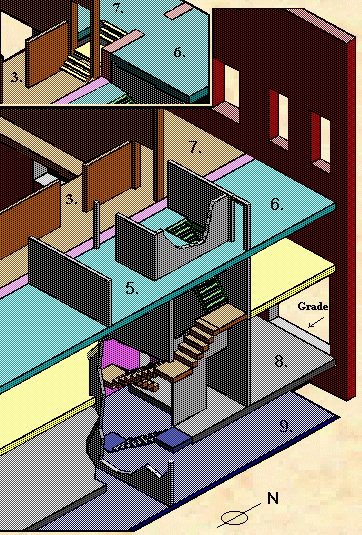 3. Flies 4. Dressing Room 5."Room" 6. Artist's Room
7. Painting Room 8. Resolution Hose 9. Pit Level