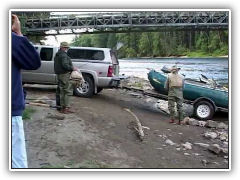 Click thumbnail for YouTube video

Please use browser's BACK arrow to return to VideOccasions
Taping for this promotional piece required three rafts and guides, three fishers, video camera and still camera operators and two ten hour days of taping on the Elk and St. Mary rivers in Eastern British Columbia.

Taping on the second day was interrupted by a "microburst," a severe, narrowly defined and short-lived storm system accompanied by torrential rain and high winds, winds severe enough that food was blown off our lunch plates. Just another day in the northern Rocky Mountains!

The aesthetic goal of this video was to show the sport of fly fishing in a gentler manner than is typical, focusing on a woman in the sport. The principal fisher is a woman, and all of the videography was by a woman, as were many of the shot choices in the final edit.

The St. Mary Angler Fly Shop (1-800-667-2311), at that time located in Kimberley, B.C. and recently moved to nearby Cranbrook, has used this work at trade shows, where it plays throughout the day; in-store and on a DVD as a mailing piece for interested clients, and on the company web site. Promotional video can be repurposed to serve many marketing strategies.

The video has been awarded two Tellys, one for overall production values, the other for the sound track which, in addition to the several pieces of music you hear, includes more than a dozen tracks of water and other ambient sounds.