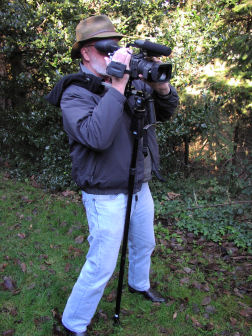 Tripod with shoulder brace.

<! First Text Block>

Have trouble holding your small DV camera steady when you shoot? You could use a tripod, of course, but sometimes a monopod is a less cumbersome solution. Monopods can be used in several ways. Fully extending the monopod and placing its tip on the ground works well in some situations, but there are other ways that may work even better.

<! Second Text Block> There are many ways to make use of a monopod. With the camera attached, place the tip of the monopod in the side pocket of your trousers, for example, and adjust the length until the viewfinder of the camera is comfortably positioned. You now have a surprisingly stable "platform" for your camera, one which allows you to roam freely as you shoot.

Some videographers use a slightly different arrangement, placing the butt of the monopod into a cloth pouch, similar to that used by standard bearers in a flag ceremony, suspended from the front of their belt. I prefer the pocket, but chacun à son goût.

Yet another method involves the use of a shoulder brace in conjunction with the monopod. You'll need a swivel-head to use the monopod this way, which you should be able to locate easily in a professional camera supply house (in Seattle, Glazer's for example.) Here the shoulder brace is connected to the swivel head of the monopod, creating a sturdy brace for situations in which extended shooting with small digital cameras is required.

<! Second Picture>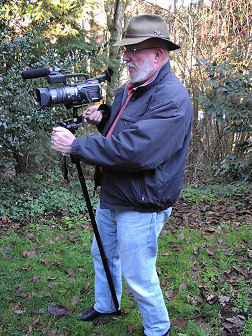 Tripod extended, with butt on ground.