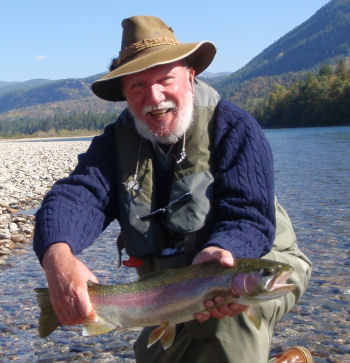 Columbia River, near Trail, British Columbia
Jack attended Carnegie Institute of Technology, where he received Bachelor and Master of Fine Arts degrees in stage directing. A Senior Member of Actor's Equity Association, the stage actors union, Jack worked for several years in the professional theatre on Cape Cod and in Palm Beach, Philadelphia and San Francisco as actor, stage manager and director.

In 1964 Jack went to The Ohio State University to work on a PhD in Theatre History. While at Ohio State he was trained in video production by NBC's James Lynch, and worked extensively in public and educational television as a cameraman, director and producer. He has also performed as an actor on the NBC affiliate in Columbus, and as a public affairs host on Seattle's Channel 9 television.

From 1967 until 1998, Jack was a member of the faculty of the School of Drama at the University of Washington, where he served for many years as Graduate Program Advisor and Associate Director of the School. During these years he maintained his keen interest in video. He produced several short-subject videos for the educational community, as well as a full-length video of Shakespeare's The Merchant of Venice and two interactive laser discs.

Starting in 1984, a series of grants from the IBM Corporation enabled Jack to experiment extensively with computer software and hardware for the theatre and for video applications. His work in this field has attracted international attention. Jack retired from the University in June 1998.

Jack's work with hypertext predated the World Wide Web by several years. He maintains Theatre History on the Web, an educational web sites, and designed the site you are presently visiting.

Jack is the author of two books and many articles, several of which may be found on this web site, and has been a contributor to Wedding and Event Videography magazine. He has lectured on various aspects of the video profession for Videomaker Magazine seminars as well. Most recently he presented a seminar on taping theatrical performance at the 4EVER Group National Conference in Jacksonville.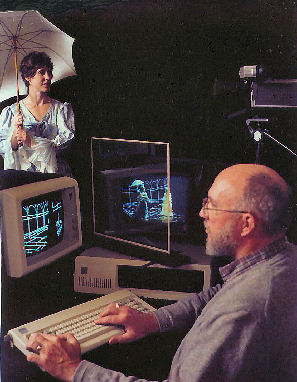 Combining computer imaging and live action using a
beam splitter. (1990)